The lockdown has impacted the students and the staff whose job it is to support them, in ways that have pushed us, as an Institute team, to think about the core values that underpin Releasing Potential during the current crisis. This thinking has been both fruitful and painful, forcing us to examine our assumptions and ask deep questions of ourselves as professionals and as educators. I want to explore two of our four core values here, as a way of examining the challenges we are facing in the COVID-19 pandemic. In doing so, I hope to be able to suggest a way forward, after the lockdown ends, with a greater understanding of the way our values work.
Banking compassion
At Releasing Potential, we talk a lot about "banking compassion". It comes from a trauma-informed approach to working with children and young people and has its roots, as a terminology, in work with those who have been sexually exploited. For us it is an underpinning principle guiding all we do. It is about making an investment in children and young people even though we are not sure we'll see a return.
The idea of banking compassion can be summarised by referring to the position of the teapot in Releasing Potential culture. Staff are trained in the importance of the teapot. We always make a pot of tea, in the old fashioned way, as opposed to the single teabag in a cup method; this is because we are happy to risk throwing away three quarters of a pot of tea on the off-chance that someone may come in and benefit from the feeling of welcome and wellbeing which comes from having a cup of tea offered exactly when you need one.
The teapot stands for community, care in the face of barriers, and the importance of communication (you can learn a lot about what is going on in a building by placing a hand on the teapot and gauging, by its warmth, who may be around, how recently they had a break, and so on). For our staff, understanding this is the key to unlocking what is expected from them – to persevere in supporting students even in the face of rejection and other barriers, even when it seems like a waste of our resources.
But what does it mean when the value we place on community— on shared human experience and interaction—must be disrupted by social distancing? Is it safe to insist on banking compassion, when even the act of making a pot of tea could be a genuine risk?
Reasoned empathy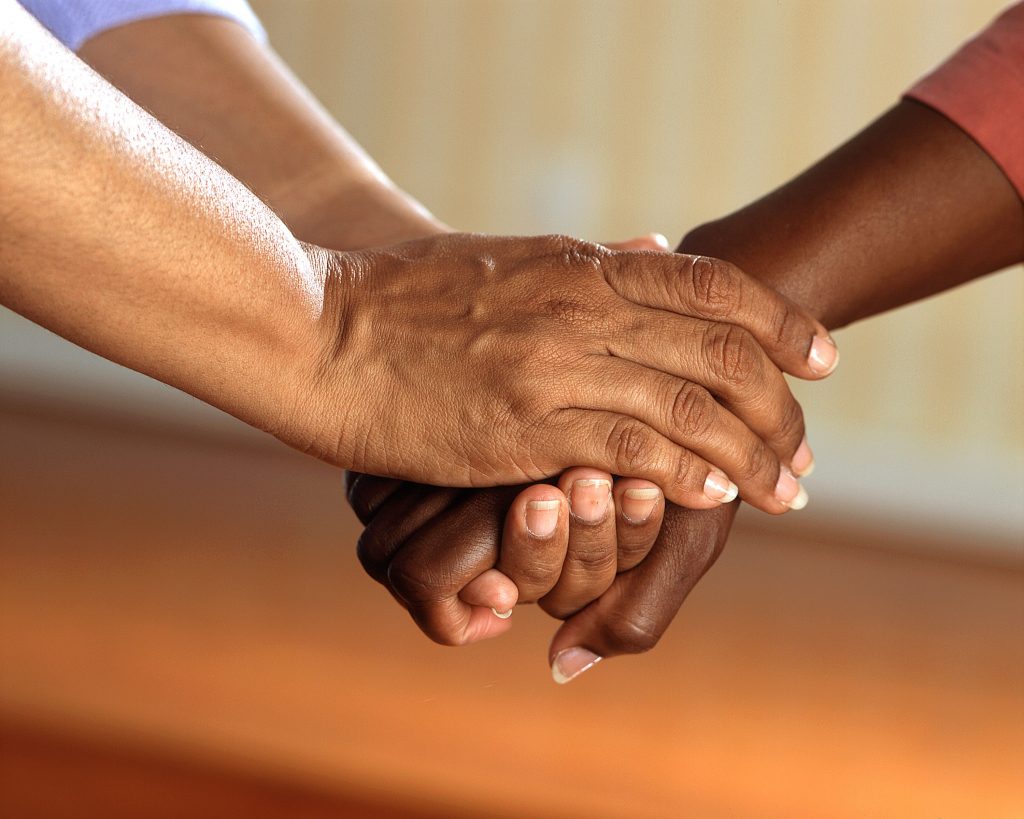 The check to banking compassion is something called "reasoned empathy". In his book Against Empathy: The Case for Rational Compassion, Paul Bloom discusses the dangers of over empathising, which he believes can lead to burn out and professional and political paralysis. Bloom examines the dangers (and in some cases, the hypocrisy) of collective compassion and empathy, citing numerous examples of professional practices that require so much personal sacrifice they become unprofessional and potentially damaging.
For us at Releasing Potential, it is important that we do not allow ourselves, in banking compassion, to fall victim to forms of selflessness that approach self-indulgence. Over-dosing on empathy can easily happen when you are driven by the need to bank compassion, but it almost always causes more problems than it solves. It is vital that we care for our students, but when that care becomes more about us and how much we are putting into our work, sometimes in the form of running ourselves into the ground, we are no good to our students.
We argue that by banking compassion and applying reasoned empathy in careful balance, we can build sustainable and authentic relationships which, in turn, help bring about positive change in the lives of the children we support. It is always a challenge, and one that has been brought into fresh relief by the current situation.
The problem with values in a time of crisis
So what happens when two of your guiding principles seem to clash under pressure?
Our team's varied responses to the crisis, rooted in a range of different and perfectly valid personal circumstances, mean it is difficult to have a one size fits all policy. Releasing Potential has had to re-visit our core principles again and again to ensure we are banking compassion with the children we work with, but, also that our expectations of staff don't encourage them to over-dose on empathy. We've had to consider the extent to which we can expect staff to work as hard as they are without compromising our own value system.
On the one hand, reasoned empathy requires them to take care of themselves, but at the same time put themselves at risk each time they come to work like so many thousands of others who cannot work form home. On the other, banking compassion requires us all to be selfless and dedicated in our support of society's most vulnerable – something we can't do from home or without being out in the community at a time when this carries genuine risk.
Releasing Potential and the Institute is in a strange position. We benefit neither from being maintained by the government (who protect school staff salaries whether schools are open or not) nor from the various schemes set up to support struggling charities or businesses. Our school staff have been categorised as key workers, but see that others in their profession are being kept home for their own safety with minimal time in school required.
On the surface it would seem that banking compassion is in direct conflict with reasoned empathy—how, staff might very well wonder, do I take care of myself at this time when what is required for me to bank compassion is to take more risks than many others in my profession? At the leadership level, we must make decisions to protect the work of the organisation and staff jobs, but also explain this to staff in a way that makes sense. We have to ask ourselves, do our values really work in these extreme circumstances?
The answer is yes.
It is our responsibility as a community to balance self-care with our commitment to supporting those who need our help. We do not need staff to be totally selfless, to require as much would be risking burnout and contrary to reasoned empathy. What we do need is to understand that altruism in the face of such fears needs to be measured and careful; to bank compassion we must not give more of ourselves than we can manage but we must also try and manage our fears. This tension is perfectly illustrated by the fairly mixed advice given by government in recent weeks.
For instance, while all but key workers are told to "stay at home" to "protect the NHS" and "save lives" the government has also encouraged people around the UK to register as volunteers. Some of these volunteers will be taking part in altruistic practice in their communities – delivering food, driving patients to hospital, checking on vulnerable people etc. This seems to contradict the government's edict to "stay at home" in some ways, but it demonstrates that even at this time of crisis, people are being asked to do what they can to help while keeping the risk as low as possible. Yesterday's frustratingly vague 7pm briefing also highlights to conflicted messages coming out of the four nations and gestures towards a "at your own risk" approach which school staff are likely to find incredibly unhelpful in the coming weeks.
For us, it is impossible to eliminate risk entirely, but we need to find the balance. Deep anxieties at this time have forced many to re-examine life's priorities. I am certain that for those who are struggling to justify coming to work because of genuine fears for their wellbeing, this will be a time of reflection on the role they do and what is required by it. For our staff and students, we need to understand those anxieties, to listen non-judgmentally and to support if we can.
Keeping staff and students safe is a priority, and we must follow all guidelines on staying safe meaning significant changes to the way we operate. However, we also need to remain committed to our principles more now than ever– you can bank compassion and practice reasoned empathy at both the personal and organisational level, but it is damned hard. We should forgive ourselves for sometimes getting it wrong and commit to learning from our mistakes.