Releasing Potential
BADGE SCHEME
The Releasing Potential Badge Scheme is designed for children, young people and adults, who love the natural environment and are looking to increase their knowledge and take their skill to the next level.
We offer two types of scheme: 
Forest School and Forest Explorers
Forest School participants will grow in their connection with nature, and the woodland environment through play, exploration and skill based learning.
Forest Explorers is for those who have participated in Forest School or other Bush Craft courses and want to learn the skills required to not only survive but thrive in the natural world.
These schemes will instil a connection with the natural environment which will develop a culture of sustainability and environmental awareness.
This scheme will encourage children and young people into the outdoors by harnessing their passion for achieving the 'next level'. Children of the 21st century are part of a culture which values the process of 'ticking off' achievements made and levels completed. The badges will take advantage of this enthusiasm by introducing children to the idea of 'next level' adventures in the woods.
FOREST EXPLORER BADGES
Forest Explorers Badge Scheme is aimed at those who are interested in or provide Bush Craft activities. The youngest age we recommend for this would be 8 years old but this can be dependent on the provider. The minimum requirement for practitioners wanting to provide the scheme is the Bush Craft competency certificate or equivalent.
To earn the Fire Skills Badge – Participants will be able to demonstrate that they understand the elements, practise and purpose of Fire. Through building, lighting, sustaining and extinguishing a fire.
The Knife Skills Badge – Covers the use of knives along with other tools that are used for bushcraft activities. Participants will need to  demonstrate safe and appropriate use of a knife and other tools whilst making a range of items.
To earn the Shelter Building Badge – Participants will be able to understand why shelter is necessary for survival and demonstrate their ability to make a range of shelters using tarps and natural resources. 
The Wilderness Living Badge – Combines a number of badges to show the skills and techniques that participants have learnt. Therefore it is advised that this is done at the end of a course with the possibility of an overnight camp.
There are 12 types of Bushcraft badge to collect 
FOREST SCHOOL BADGES
The Forest School Badge Scheme is designed for practitioners working with children from the age of 4 – 11 with three levels of learning. Qualified Level 3 practitioners are able to provide and award this scheme. This model will be ideal for those working with groups of mixed abilities and ages or those working with the same children over a number of weeks, months, years.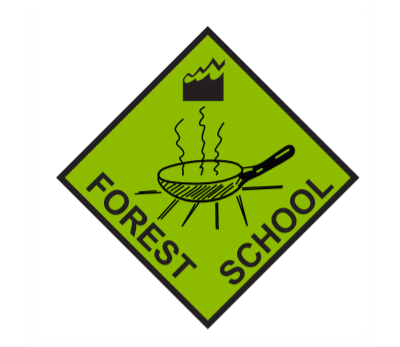 The Forest School Green Badge is the sapling badge.
This is for children with no previous experience of the natural environment.
A badge can be gained in a minimum of two session.
The Forest School Orange Badge is the growing badge.
This is for children who have gained their Forest School sapling badge
OR have had previous Forest School experience
It is recommended that participants take a minimum of two sessions to gain this award, depending on other skills being taught.
The Forest School Blue Badge is the mature badge.
Participants achieving this award would have already gained the Sapling/Green or Growing/Orange badge.
They must show maturity in their skill, ability and knowledge.
There are 21 Forest School badges to collect
Delivered at the three levels: Sapling, Growing and Mature
If you are interested in delivering either the Forest School or Forest Explorer Badge Scheme we can take you through the simple process of registration, approval to provider by following these simple steps:
Initial enquiry through phone or email so we can help you work out which scheme is best for you.

Register for free with us by providing a copy of your relevant leadership qualifications, up to date First Aid Certificate and prove of registration with the DBS

Choose which starter pack you would like to purchase.  Each new subscriber will receive an initial pack  which includes a Scheme of Work, 30 Badges (packs of 10, choose 3 different skill areas) and 10 Passports, to help participants track their progress

Pay £75 p&p for this to be sent to you

Go and play in the woods
Once you have received your initial pack of resources, you can order badges and passports in packs of 10 at your convenience